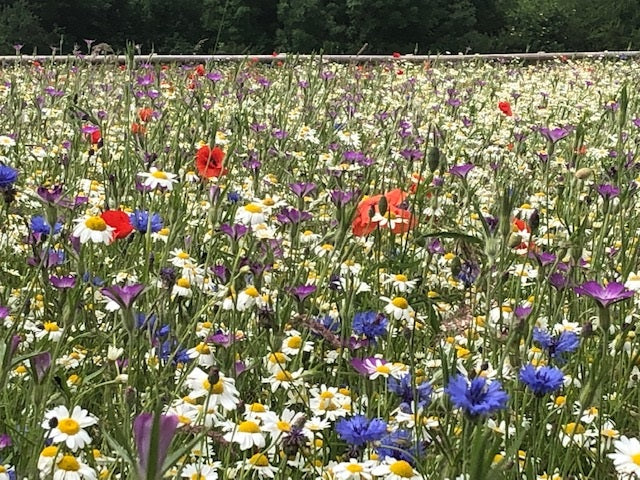 BBC Gardeners World promotion of wildflower meadows
The recent BBC Gardeners world promotion of wildflower meadows. Monty Don recommended the idea and benefits of growing wildflower Meadows. Clearly we think this is an excellent idea as we've been supplying Native Wildflower meadows in the UK for over 25 years.
Poppies in Meadow The BBC Gardeners World promotion of wildflower meadows. This promoted the  idea that you plant perennial wildflower meadows matching the soil type that you've got. This simple idea is contrary to a lot of gardening. That is where you change the garden so you can grow the flowers that you like. With wild flowers you plant what will grow in your garden. We have a wide range wildflower meadow mixes. These will match different soil types and conditions.
Our Mixture Ranges
You can either buy and plant them
as a mixture of grass and wildflower seed
which you sow at 4 g to the square metre Or our
100% wildflower seed mixtures
which you sow at 1.5 g. If you have smaller areas you could consider straightforward
simple wildflower border mix
.
Meadow Development
The BBC Gardeners world promotion of wildflower meadows will benefit wildlife such as Bees and Butterflies. One of the challenges with meadows is that they take a while to get going. We often recommend to customers that they sow some annuals along with the perennial wildflowers. This way you get some colour in the first year. Once established a perennial meadow can be relatively subtle. In that you get a range of flowers over the summer in amongst grass. The big advantage of wildflower meadows is that once established they grow back each year.
Bee on Cornflower But if you sow some annuals with it the annual part can in some cases have a huge success in the first year. The range of pictures on this page are some that one of our customers David Anslow of
Lawnview.co.uk
planted for one of his customers near Stroud. They planted our
MEAD3 grass and wildflower seed mixture
at 4 g to the square metre and our standard
Cornfield annual mixture CWF1
at 1 g. Following a lot hard work by David, it was planted in 2018, you can see from the photos if looks like every annual seems to have flowered. The meadow will not look like this in following years but by planting some annuals with a perennial mix may mean that you start the meadow with a very colourful show. If you'd like more information there is a wide range of advice and customers Meadows on our website. Or us at
shop@meadowmania.co.uk
or Freephone 0800 0854399.
Cornfield Annuals in Flower
---