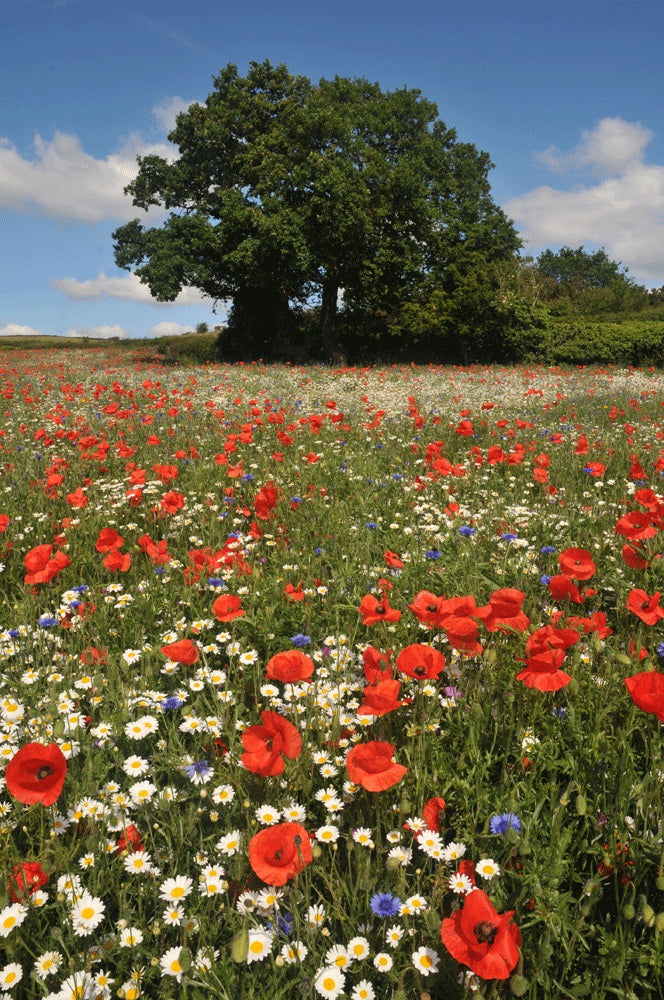 Meadow Flowers are commonly thought of as Wild flowers. There are though, a number of groups that wild flowers can fall into. It is important if you are trying to create a natural meadow that you understand what flowers are appropriate.
Cornfield Annuals in 2017 These include species such as Poppy, Cornflower, Corn Marigold etc. They are short lived and generally very colourful. Historically they appeared in arable fields, when the farmer ploughed the field each year it brought new seeds up to the top. With the advent of agrochemicals, they have all but disappeared in arable fields. They are often included with meadow flower mixes to add some colour in the first year.
Yellow Flag Iris There are specific wild flowers that you would expect generally to see just in certain habitats. So, in woodlands you would find species such as Hedge Bedstraw, Wild Foxglove and Bluebells. By the edge of water, you may find species such as Yellow Flag Iris, Purple Loosestrife and Teasel. Some of species of wild flowers may sometimes appear in meadows but they are most likely found by water or in shaded areas.
Meadow Flowers.
Most of us when we walk down by seaside, down country lanes of across old meadow areas
Meadow Flowers will, if we look, notice different wildflower in amongst the grass. The grass is an important part of this equation It provides the normal back drop for the wild flowers. There are hundreds of different wild flowers that can be found growing wild in the UK. But some of the more common ones are Birdsfoot Trefoil, Cowslip, Campions, Plantain, Ox eye daisy , Wild carrot etc. Many people now would like to introduce Meadow Flowers into their garden. They work best on poorer soils. This is not that they will not grow on better soil, more that on good soils the species you do not want use the fertility better. On poorer soil it is more of a level playing field. Once they are established if properly managed they can be left to grow out over the summer and then cut down in early autumn. This reduces considerably the management time. The flowers are attractive and beneficial to butterflies and Bees etc, and bring more of them to your garden over the summer.
How to create a meadow
If you wanted to introduce an area of Meadow Flowers into your garden, then follow these simple rules.
Sow a mixture that is largely perennial flowers. You cut these down then they grow back each year.
Sow them with some grass or into grass if it is poor and has been ideally thinned out.
Sow in an area you are happy to grow wild (they are called wildflowers for a reason!)
The meadow may take a couple of years to get going so be prepared to be patient.
Once established leave to grow out over the summer and enjoy.
If you would like any more information on Meadow Flowers, then please contact us on Freephone 0800 0854399 or by email
shop@meadowmania.co.uk
---